Tonight 7:30 PM ET
Session VI
Topic: Czarna Wolgastar Returns!
A live streamed concert featuring our new trio formation, Czarna Wolgastar— intergalactic balkan surf jazz! This is also a fundraiser for the Orchestrotica's upcoming Fall booking-conference season, so we're offering multiple ticket levels including (2) 1-seat-only sponsorship opportunities. You're support will also go towards the production of this event, since getting a high-def video/audio capture outside can be difficult. Fans can select from the live-stream only option, or upgrade to other ticket classes that include an audio recording, video recording, song requests, and more. This event will be broadcast to a secret YouTube link available to ticket-holders only; there will be no Zoom for this event! We will however try to take questions from the chat in YouTube halfway through the show.
The trio features Brian, Mike and Tev from the Quintet and you can learn more about the trio formation's music here.
Ready to join us? Get Tickets / Sponsor the Event
ABOUT THE REMOTELY MUSIC SERIES
Hosted by artistic director, Brian O'Neill, and featuring members and friends of Mr. Ho's Orchestrotica, join us as we react to Coronavirus with music, interviews, discussions, and most of all—you—via our new, free series of live, interactive video webcasts. Launched in April 2020. Learn about the series, then join the mailing list to get early access to all event registration links (yes, seats in the official "Zoom group" are limited, despite this being an online event!). That said, we will also be co-broadcasting the video feed to our Facebook Page as well. Just bookmark this link and tune in at the scheduled time: facebook.com/orchestrotica/live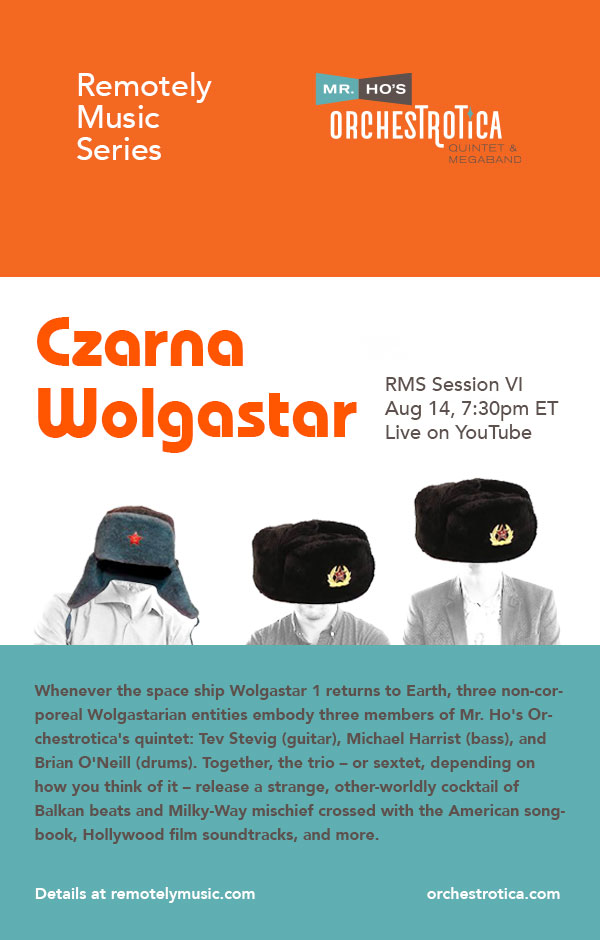 Links, Facebook, Flyers: