Listen Free
As of 2020, the quintet in this formation has two albums out. Both are part of the Orchestrotica's Exotica for Modern Living Series available in our online store.
| | |
| --- | --- |
| Autumn Digging Dance | Your browser cannot play this file, but here is a link to the audio instead. |
| Prelude for Piano III [G. Gershwin] | Your browser cannot play this file, but here is a link to the audio instead. |
| Maracatune for Chalco | Your browser cannot play this file, but here is a link to the audio instead. |
| Third River Rangoon | Your browser cannot play this file, but here is a link to the audio instead. |
| Chiseling Music | Your browser cannot play this file, but here is a link to the audio instead. |
Bio
In the same way a chef de cuisine runs a kitchen, percussionist Brian O'Neill leads a team of five musical creators who deftly collaborate on instruments foreign and domestic to form modernist delicacies for hungry, curious listeners. From the high arts of jazz and chamber music to adaptations of mid-century exotica and pop art, the quintet version of Mr. Ho's Orchestrotica renders O'Neill's original compositions and curious arrangements of Bach, Gershwin, Shostakovich and John Adams into cinematic, layered music for armchair travelers ready to journey off road.
While the quintet eschews most of the musical forms, rhythms, and styles of the 1950s exotica sound that inspired O'Neill, it fully embraces the unique genre's love of escapism, whether through deliberate, out-of-context use of global sounds or through jazz improvisation that doesn't swing and deliberately imitates the rhythm of a skipping record. On the listener's plate might be equal parts scratch and sniff, bongos with a fugue, and a cat fight at a piano recital. On the stage, the ensemble skillfully negotiates detailed compositions and arrangements of classical works while relying on listening and instinct to drive passionate improvisation.
"If John Zorn is an exotica Picasso, O'Neill is his Georges-Braque counterpart in cubism's transposition to music."—AllAboutJazz
"No other band on the planet sounds anything remotely like Mr. Ho's Orchestrotica."—Lucid Culture
The sound of the Orchestrotica's quintet also exists in two albums that help form the larger Exotica for Modern Livings Series, which launched in 2010 with the group's big band ensemble performing it's transcriptions of the lost music of Esquivel. In June 2011, the quintet released Third River Rangoon, it's first interpretation of exotica as a mélange of jazz, classical, and world music. This sound matured with the band's sophomore recording, Where Here Meets There (2013), a dichotomous album that introduced even more adventuresome original music on it's A-side ("Music from Here") and the group's most sophisticated adaptations to date on it's B-side ("Music from There"), the latter including it's popular arrangements of Gershwin's three "Piano Preludes." The series has also been lauded for its unique mid-century modern-inspired artwork, and audiophile-grade production quality.
In addition to O'Neill's vibraphone and hand percussion, the quintet features Geni Skendo's bass flute, flute and shakuhachi, the highly stylized classical/jazz bassist Brad Barrett, Tev Stevig on the rare trio of oud, tanbur, and resonator guitar, and Jeremy Smith who referees the ensemble's interactions and improvisations using a bounty of percussion from marching machines to Arabic frame drums. All of the musicians are teaching artists and the ensemble provides educational programs at the primary school, high school, and collegiate levels.
Artistic Statement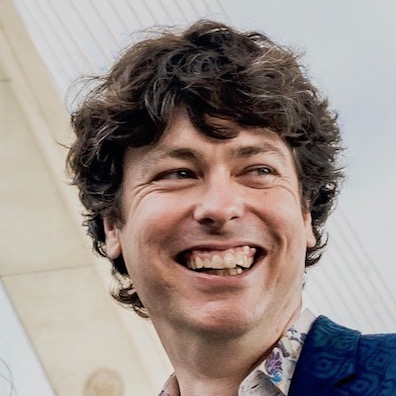 by Brian O᾿Neill
Artistic Director, Percussionist/Vibist, Composer, and Arranger
What᾿s in a name? A lot.
From "Mr. Ho" to the word "Orchestrotica", a name can kick off many questions. Maybe you᾿re wondering what the heck an "Orchestrotica" is? Wondering if it is…appropriate…or perhaps Korean? You᾿re not the first!
The quintet formation of the Orchestrotica is a vehicle to explore the music inside me, with help from my ensemble counterparts Geni Skendo (bass flute, flute, shakuhachi), Tev Stevig (oud, resonator guitar, tanbur), Jeremy Smith (percussion), and Michael Harrist (bass). These gentlemen share my appetite for an adventure that is accompanied by what sounds like–at least to our ears–a global jazz and exotic chamber music soundtrack. Today we describe this to audiences as a "a story-driven mashup of global jazz and classical adaptations.
The Orchestrotica is a collection of ideas and ensembles that I think of as an exotica orchestra. The origins of the quintet started with my earliest musical training on the piano at age four. In middle school, while a member of the world-famous Phoenix Boys Choir, I got a chance to watch an orchestral snare drummer play a drum roll for the national anthem, and I was totally hooked. How could his hands move so fast? I had to learn. By the time I graduated from college, I had exchanged the piano and singing for swinging on the ride cymbal in the NAU big band and combos, composing and leading the drumline, playing section and solo percussion with symphony orchestras, and was constantly hungry for more. Moving to Boston in 1999 made me realize how small my little musical world actually was. I played some southern Italian folk with Geni, belly dancing and Sufi whirling dervish gigs with Tev, chamber rock with cordis, the deep, picturesque chamber jazz of pianist Bert Seager, and even musical theatre gigs, and now, I can᾿t really compartmentalize all of it. So, it all goes into my quintet᾿s writing and improvisation as a single cocktail, shaken, and served up tall for our listeners delight. The quintet᾿s original music is compositionally focused, while retaining plenty of room for passionate jazz improvisation and individual interpretation. If you can᾿t quite place the global sounds, that᾿s also the point: the borders between East and West are also blurry, as our group seeks to create something new from our collective experiences with music from around the globe. While I love to write for the quintet, I also can᾿t escape the pull of wonderful composers such as Bach, Gershwin, Shostakovich, and Tchaikovsky, who would find their music reinterpreted in ways they probably never imagined.
So, is the "Orchestrotica" appropriate? I think so, but I let the listeners decide each time we take the stage, perform, and share the stories behind the music throughout the concert.
As for the "Mr. Ho," it᾿s an acronym. You᾿ll just have to call or ask me in person for the details. Or, keep imagining the meaning for yourself. That᾿s really the spirit of the music.
Learn more about Brian O᾿Neill at crashandboom.com
Get on the mailing list to get updates on our shows and events for both groups!