New video: ever wondered how we rescued Esquivel's music ? + A recording update!
Mar 1, 2013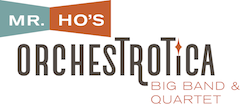 Hi !
There is so much going on right now, I don't know quite where to begin! How about a video and some recording news!?
Quartet recording update
Last weekend the quartet went into the studio to begin recording the next CD in our Exotica for Modern Living Series which will feature original new music and some exotic chamber music arrangements. Stay tuned for some videos and sneak peaks at the output from our sessions last week. If you have been watching our Facebook page, you will have seen photos from the session. More soon!
NEW! Video: Episode 1: Transcribing the music of Esquivel!
It only took me about 7 years, but I finally got around to making the first episode in a series of videos I hope to release that takes you through the process of dissecting and recreating one of Esquivel's arrangements. As you all know, our big band plays the lost music of Esquivel; lost because there are no transcriptions/scores left for a live ensemble to use. As such, somebody has to listen to Esquivel's recordings and recreate the manuscripts by ear....and because it pays so well, Mr. Ho does this work ;-) Watch the 1st video of the series now or click the graphic below. Let us know what you think on Facebook, Twitter, or hit reply.
Show: 20 Marzo 2013 - Mexico
22 músicos en escena presentarán un repertorio único, de algunas de las más emblemáticas piezas del reconocido pionero del Space Age Pop. Con intervención de El Muñecon! En concierto el resultado de un proyecto binacional entre México y Estados Unidos... Detalles/Details... | Tickets/Boletos (TicketMaster.com) | English | Facebook event
Show: 12 April 2013 - Cambridge, MA
We are happy to be back at the Lily Pad for our first 2013 concert! This will be our first show with the amazing percussionist, Shane Shanahan (Yo-Yo Ma, Silk Road Ensemble). Details on the show...
More dates and links (please share!):
| | | | | | |
| --- | --- | --- | --- | --- | --- |
| Add | Wed, 3/20/13 | Bi-national Big Band: Teatro de la Ciudad Esperanza Iris | Share link | Mexico City, D.F. , Mexico | Map |
| Add | Fri, 4/12/13 | Quartet: Lily Pad | Share link | Cambridge, MA | Map |
| Add | Sat, 4/27/13 | Big Band: Standing Room Only Concert Series @ Wakefield Unitarian Universalist Church | Share link | Wakefield, MA | Map |
| Add | Fri, 6/7/13 | Quartet: The Hukilau —The Sheraton Beach Hotel (aka Yankee Clipper) | Share link | Fort Lauderdale, FL | Map |
| Add | Sat, 6/8/13 | Quartet: The Hukilau —The Mai Kai Restaurant | Share link | Fort Lauderdale, FL | Map |
gracias!
Brian "Mr. Ho"
for Mr. Ho's Orchestrotica
Esquivel Big Band / Global Jazz Quartet
http://orchestrotica.com/