Vinyl Giveaways + Free Tickets for This Thursday's Show 7/30 (Cambridge, MA)
Jul 27, 2015
Hello !
Everyone likes freebies right? Here's the scoop:
Free Ticket for Thursday 7/30 @ 7:30pm (Cambridge, MA)
We're giving one of your friends a free guest list spot to our concert on Thursday at the Regatta Bar. Here's how your friend can win an extra seat to the show:
1. Identify a friend. 2. Tell them how much your friendship means. 3. Ask them to join our mailing list at orchestrotica.com/mailinglist.cfm (now you see why we have step two). 4. Forward us your own Regatta Bar ticket receipt and mention the name and email address of this friend. If you're the first one to contact us and your friend has already joined the mailing list, they'll be put on the band's guest list.
For the rest of you: tickets are on sale and thanks in advance for sharing the link or flyer with your friends! Maybe you read about the show in the recent
MetroWest Daily News article/interview. A few typos in the transcript from our interview, but fun nevertheless!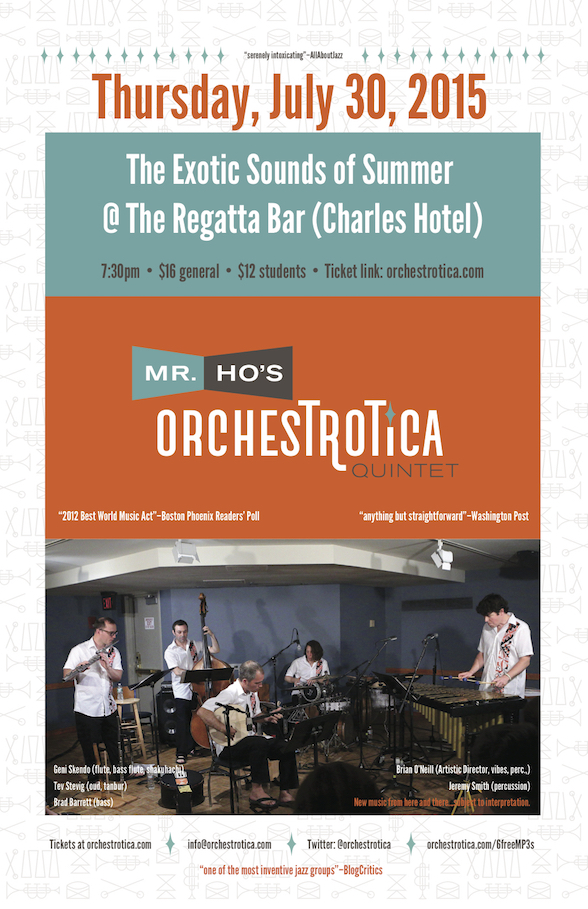 Here's what we
look and sound like on a $100,000+ audiophile system from ClearAudio and ESO Design
. This system is on Mr. Ho's Xmas list, hint hint....
Free Vinyl Giveaway..If You Deserve It!
We're giving away two copies of our exclusive red vinyl copies of
Where Here Meets There away to one of you. To win one of the copies, compose the best message telling us why you or somebody else you know should be the winner via one of our social networks: tag us in a Tweet, post to our Facebook band page, or tag us in a post to our Instagram. Creativity counts: text, pictures, and video pitches are welcome. We will read aloud the best, clean responses at our concert on Thursday and let the local Cambridge audience help us decide who should win. We will stop looking at responses sometime on 7/30 so get it done before then! The contest is open worldwide, but fans with a mailing address outside the continental US will be responsible for international postage. Good luck!
2016 California Tour Planning - Want to Help?
The quintet is working on a short visit to CA in early 2016--hooray! We are working on finding suitable venues and getting the logistics off the ground. Thank you to Stephen R, Rory, Matt L, Otto, Mark R, Kat, and all of the rest of you who have been super helpful in chatting about all things California. We're still looking for assistance with a variety of logistics in the LA, SFO, and Palm Springs areas for now. Can you help us out? Hit reply for more info!
See you out there,
Mr. Ho and the Orchestrotica