News Release: Mr. Ho's Orchestrotica Oct. Tour - Leaving the Changes Behind
Sep 25, 2014
| | |
| --- | --- |
| NEWS RELEASE | Press contact: Brian O'Neillinfo@orchestrotica.com - 1.347.482.1775 |
"Leaving the Changes Behind" - Mr. Ho's Orchestrotica ushers in Fall with an October bushel of global jazz and exotic chamber music
Brian O'Neill's eclectic quintet presents a first rendering of original ballet music, bowed chants from Georgia, Kyrgyz love songs, and the world's only combination of marching machine with jazz tanbur.
This October, Mr. Ho's Orchestrotica will present its eclectic collection of exotic chamber music that is "anything but straightforward."-
Washington Post. In addition to performing selections from its acclaimed 2013 release,
Where Here Meets There, the quintet (led by composer/Artistic Director Brian O'Neill on vibes, percussion) will also perform new, unrecorded music including the group's first foray into music that O'Neill is exploring as the score for a ballet project. Along with this "Pas de Deux" comes an interpretation of an ancient chant from Georgia performed by four of the members on bowed vibraphone, a Kyrgyz love song, free improvisations, and a medley of Gershwin Piano Preludes arranged by O'Neill for this unique ensemble which features Geni Skendo (bass flute, flute, shakuhachi - Astronauts of Albania), Brad Barrett (bass - Juanito Pascual, Ran Blake, Bob Moses), Tev Stevig (oud, tanbur, resonator guitar - Klezwoods, Jeni Jol), and special guest Jeremy Smith on percussion (NYC).
This tour will include the group's first stop at the ShapeShifter Lab in Brooklyn (10/18) and the group's first return to DC's Bohemian Caverns for 2 shows (10/17). The tour kicks off at the intimate Cambridge listening room, The Lily Pad in Inman Square (10/16). Full details, tickets, photos, flyers and info below.
October Dates
| | | | | |
| --- | --- | --- | --- | --- |
| | Add | Thu, Oct. 16 @ 9:30 PM | Lily Pad | Cambridge, MA Map |
| | Add | Fri, Oct. 17 @ 8:00 PM | Bohemian Caverns (Tickets) | Washington, DC Map |
| | Add | Fri, Oct. 17 @ 10:00 PM | Bohemian Caverns (Tickets) | Washington, DC Map |
| | Add | Sat, Oct. 18 @ 8:00 PM | ShapeShifter Lab | Brooklyn, NY Map |
| | Add | Sun, Oct. 19 @ 12:00 PM | DreamFarm Radio | Hollis, NH Map |
Quintet Bio
"a marvelously flexible unit"—Boston Globe "serenely intoxicating"—All About Jazz
Referencing the exotica of composers ranging from Tchaikovsky and Shostakovich to George Gershwin, Martin Denny, and John Adams, Mr. Ho's Orchestrotica—as a vibraphone quintet—performs global jazz and exotic chamber music with world-music flavors sourced from Asia, the Middle East, the Balkans, and Latin America. Led by multi-percussionist, vibraphonist and composer Brian O'Neill, the group also features bass flute/woodwinds (Geni Skendo), percussion (Shane Shanahan), acoustic bass (Brad Barrett), and oud/tanbur/resonator guitar (Tev Stevig). The quintet focuses on original music written by O'Neill ("a first-rate composer"—Huffington Post) that is highly influenced by his fifteen-year career as a multi-percussionist in symphony orchestras, jazz groups, and world music ensembles leading AllAboutJazz to say, "…if John Zorn is an exotica Picasso, O'Neill is his Georges-Braque counterpart in cubism's transposition to music." The Orchestrotica was named the 2012 "Best World Music Act" in the Boston Phoenix's annual readers' poll. Full bio
Images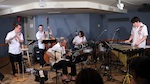 Photo Download | More photos...
Flyer
###
Thanks!
Brian
for Mr. Ho's Orchestrotica
Esquivel Big Band / Global Jazz Quintet
http://orchestrotica.com/
1.347.482.1775